Shredded MOlé Chicken Tacos. Prepare the mole sauce according to recipe instructions.; Toss the chicken. Then add the remainder of the sauce to a large mixing bowl with the chicken, and toss the chicken until it is evenly coated. These chicken mole tacos are super easy to make!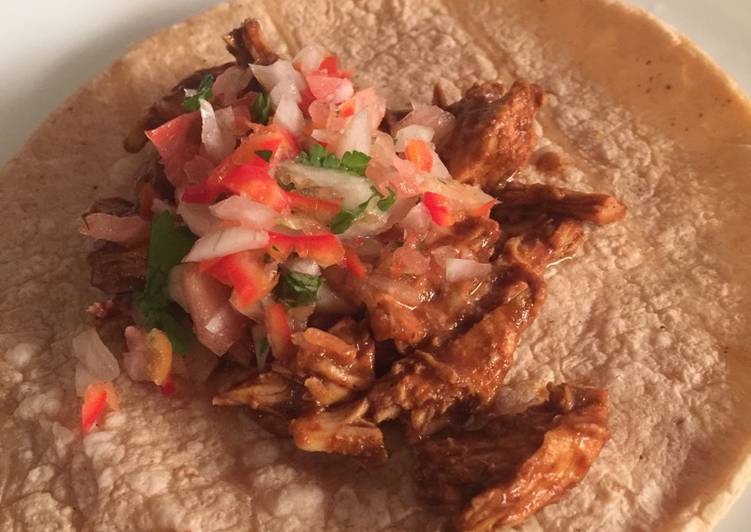 Mole paste can be used to make enchiladas, chili, BBQ sauce, chilaquiles, and these finger-lickin' good Tacos de Mole made with shredded chicken. But mole paste also pairs nicely with turkey, pork, and even shrimp. This quick and easy shredded chicken mole is delicious wrapped in warm corn tortillas topped with chopped onion and cilantro. You need to prepare Shredded MOlé Chicken Tacos using 13 active ingredients and 5 steps. Below is you exactly how to cook the best foods for your family.
Components of Shredded MOlé Chicken Tacos
Require 3 of boneless, skinless chicken breasts.
Prepare 1 tbsp of butter.
Prepare of Black pepper.
You need of Salt.
You need 1 of large tomato, diced.
Prepare 1 of jalapeño pepper, diced.
You need 1 of white onion, diced.
Prepare 1-2 tbsp of fresh cilantro leaves, rough chopped.
You need 1 tbsp of lime juice.
Require 2 tbsp of molé sauce concentrate.
Prepare 1 1/2 cup of water.
Prepare of Cumin powder.
It's 6-8 of soft corn tortillas.
This easy slow-cooker chicken recipe with mole poblano gets plenty of complex flavor from anchos (dried poblanos). Beer is an unconventional ingredient, but makes a nice bittersweet companion for the chiles. For more ways to serve this healthy mole, try these ideas: leave the chicken on the bone and serve with the sauce over brown rice; serve the shredded chicken on buns with creamy coleslaw. Once the chicken is done, remove to a plate.
Shredded MOlé Chicken Tacos content
I let the chicken thaw in a makeshift bowl of aluminum foil, since that's what it'll cook in. Save a dirty dish ya know? Drain the water from the thaw. Add the butter, a good amount of black pepper and a pinch of salt. Close the foil so the chicken is enclosed and place on a baking sheet in the middle of the oven at 400 for 40 mins..
Now for the mole sauce. I buy it concentrated in a small jar. I'm sure they have it pre made somewhere but I like to make it myself. Spoon the mole into a small or medium sized pot. It's like a thick, gritty peanut butter consistency with a little oil in it. Add the water and put it on medium heat on the stove top. Use a heavy duty spoon because while its heating you'll have to work the chunks of mole to break it down and blend with the water, creating the sauce. It should be brown and about as thick as whole milk or half and half. Once it's blended well and smooth, lower heat all the way and simmer, covered. I add a dash of cumin powder at this point just to kick up the Mexican flavor. Stir occasionally.
Now the pico de gallo. I use my electric food chopper (if you don't have one I highly recommend getting one. You can get a good one that holds like 2 cups for about $20) but if you don't have one, just dice up the tomato, jalapeño and onion and put in a bowl. If you want it spicy, leave the jalapeño seeds in since that's where the heat comes from. Add the chopped cilantro to the bowl, the lime juice and a dash of salt. Mix well. Refrigerate. If you DO have a food chopper, cut all ingredients into large chunks, add whole cilantro leaves and salt/lime juice. Give it about 2-3 quick taps, mix and refrigerate..
Once the chicken is done, remove to a plate. Break it apart with a fork and your hands. May want to let it cool a bit before doing this step. Add shredded chicken to the pot of simmering mole sauce and stir well. (If the sauce gets too thick you can always stir in a bit more water before adding the chicken.) About 5 minutes should do it. Remove from heat..
Now just build the tacos and dig in! Fork some chicken directly from the pot onto tortillas. Put some of the pico on top and that's it! Of course you can garnish with whatever you want. I love cheese, but I don't use cheese for these. They aren't THOSE kind of tacos haha but a dab of sour cream or some pepper sauce is always good. With these ingredients I got about 6-8 tacos. Depends on how much you load up the tortillas. Olé! I mean, MOlé hahaha I'm lame…
Break it apart with a fork and your hands. May want to let it cool a bit before doing this step. Slow Cooker Mole with Shredded Chicken Rick Bayless.. The majority of the time, we use the Instant Pot Shredded Chicken Mole to make always-satisfying mole chicken tacos. My favorite toppings are feta or queso fresco and cilantro.